OK, so the title is click-bait, I admit it. That's right; I'm not really a Captain. But I was inducted into the Grand Rislandian Army, and I did lead my Blob army to a couple intergalactic victories, so almost.
Hmmm? What's that?… Oh, Sugar Britches? Well, that part is actually kind of true… here, let me start at the beginning…
So, last Friday was the start of LibertyCon XXX (that's Roman numeral 30 you dirty minded things, you). I arrived later than planned, but still too early to check in. As always at the Choo Choo, if you aren't blessed by the Parking Lot Fairies, you end up miles from your room. I got a mixed blessing by getting a spot close to the Convention area before check-in time. It was not so close to the hotel, and my room-to-be, but I didn't know that yet.
Anyway, I missed the first panel I wanted to see due to lateness. I managed to catch most of the next one, Stealth In Space, all about how to hide things in space when the way you see stuff is through heat and light, and there's nothing to hide behind. Space is big and cold, but if you're trying to sneak up on someone (for reasons) you're probably going to have a really hard time doing it if they are looking. I learned lots of back-of-the-mind things for possible later reference in writing.
After that, I had a gap and it was late enough that my room was ready. It was all the way up and all the way at the end as far from the parking spot as you can get… of course. And, also of course, all the parking fairies were hiding in the bushes laughing at me as they had let everyone else have the other closer spots. This brings us to the cause of the accident… well, besides the fairies, of course.
You see, I always take too many things when I travel. One of them is that heavenly anointed maker of happiness and giver of energy, the coffee pot. It is accompanied by its lesser servants: the remover of bitterness, carnation creamer; and the source of all pre-lunch energies, the sugar canister. They are weighty minor deities, but nonetheless must be appeased.
Naturally, being a Manufacturing Engineer, I have the gift (pronounced curse) of organization and efficiency. (Parking fairies can sense this, by the way, and use it for sadistic purposes – more on that in moment). Well, I discovered that I had room in the pull-behind bag for said coffee condiments, which would allow the number of trips to the far far away vehicle to be limited to just one. Huzzah for organization! Therefore, they went into the bag. With the clothes. (It should also be noted that Parking fairies also have a bit of foresight that I, as a human, do not posses).
Fast forward to a long hot walk and bumping the luggage up a flight of stairs (elevators are too slow… poor efficiency for the transition of a single flight). Once in the room, the plan was to utilize the redundant sleeping surface as a platform for accessing the case of holding for the weekend (unpacking is dumb… and inefficient).
Nope. I opened the case and found that approximately 1 pound (this quantity is known because a full sugar canister is half of a four pound bag of sugar, and I had filled it before leaving home) had escaped its containment device and liberally coated everything in the bag.
Now, I know what you are thinking… Why did I need two pounds of sugar? The answer is both simple and two-fold. The first, of course, is efficiency. When you prefer your sugar with a bit of coffee, as I do, it is quite annoying to have to open twenty small packets of sugar to fill a four cup mug. And you can only do that once because all the sugar packets are gone. Then you have to go borrow/steal from others. It's very inefficient. Secondly, I didn't really need two pounds, I only needed one, but the other was my redundant sugar. My only mistake was putting them both in a non-redundant container… and near my… well, I'll get to that.
The majority of the sugar was now at the bottom corner of the suitcase… right where the undies were carefully stored beside the socks. I say majority because a very persistent minority of it was IN the socks… and the undies.
So, for the next thirty minutes I was forced not only to unpack shudder, but also to carefully shake out each article of clothing, each book I had brought for autographs, and each and every small crevasse of a suitcase. Of course, this meant the floor was now sugar coated as well. It had to be dealt with because… I mean, do you want ants? 'Cause that's how you get ants.
I was sure I could hear giggling from the parking lot when I made my way back to the truck for coffee mug I had forgotten in the cup holder. After that I made my way to game room to check out what was what there. I kibitzed on a little OGRE action and reacquainted with some folks I'd befriended last year.
Then I made my way back to the panel on Short Story Writing Tips which covered the usual range of 'everybody does it different' mixed with a few examples of 'everyone agrees: don't do this or that'. It was interesting to hear, and I did manage to pan a few small nuggets out of it.
Next, Opening Ceremonies kicked off the Con with Dominatrix (ices?) Toni Weisskopf and Brandy Spraker whipping the audience of filthy minded minions of LC XXX into… record scratch So anyway, the Con kicked off with a very humorous MC rattling off the many many many pros in attendance, and the annual drafting… welcoming of the slaves… um first timers. After, we all parted to revel in the festivities.
Later in the evening, I found myself making new friends in the game room again. Not only did I meet my first Critter (see Critical Role fan) in the wild, but I also discovered we shared an alma mater (Hail State!). The world is indeed small.
Soon, many of us were getting our initiation into the world of Star Realms
courtesy of Mr. Jon del Arroz (still lugging a suitcase and wearing formal attire… I don't think he got the memo about the South being hot and muggy.) I did not win the tourney, being taken out in round two by said memo-less del Arroz, but I was allowed to join the Grand Rislandian Army (from For Steam & Country) and got a set of cards out of the deal. Thanks Jon!
Check out his Star Realms: Rescue Run book too. I added it to my TBR pile as soon as I got home.
Somehow, I managed to miss the dinner bell at the Con Suite and had to subsist on chips and soda, but the gaming and company more than made up for the exchange at the time. More games and coffee later, we began a late night Call of Cthulhu session. Our Keeper, Anita Moore, pushed us through time into a Nameless Horror adventure where I played the lovable rogue, Theodore Maynard. He had a knack for very poorly timed humor. It was a good fit, overall. I got to practice my British accent skills (have you ever heard a Britt that sometimes sounds like a good ole boy?). That lasted until just past 3 AM. I was quite insane by the end… so was Theo. I didn't get to exhausted sleep until 4 AM.
FF to the next day and… What? Yes, yes, yes, I'm getting back to the Sugar Britches part you bunch of sensationalists! Have a little patience.
So, Saturday was going to end up hot, wet and exhausting (calm down). It started off with the hotel deciding it was very important that they mow the little patches of green between the wings of the building at 8:00 AM on the first night after the start of a convention because, obviously, that's always a good idea and everyone must be awake by now. eyeroll I missed breakfast, but managed to fumble through a shower and get to the autograph session with John Ringo and my planned loop through the Art show.
I bought yet another Sarah Clemens Magnus & Loki print… I can't resist them.
It rained heavily a few times and the steam content of Chattanooga went up to somewhere around 113% plus or minus delirium.
This is where the problem came in. I wrote the giggles off to lack of sleep this time, but I now realize it was the Parking fairies. They play the long game, those fairies. I returned to my room for another infusion of coffee and to use the facilities. Now, I won't get too graphic, but let me just say that I was very surprised to find myself unable to let go of certain body parts after using the restroom.
Now, for anyone not familiar with the details of men's undergarments, in the front there is an area where the fabric overlaps, called the 'fly'. It serves the purpose of both a potential access way and room for… expansion… in Engineering terms… a redundant mechanism for an extra degree of freedom of movement. In short (shorts?), it is arranged in a way that makes it quite possible for fine granules of a substance (say, sugar) to find their way into this overlap of materials and become trapped there… undetected. If said granules are water soluble, (also, like sugar) it can become mixed with sweat and then permeate through the cloth to coat… other things. I think you see where I'm headed with this, so I won't bore you (or gross you out any further) with any more details.
Suffice it to say, the next thing I did was take another shower. The next thing I did after that was make sure ALL the sugar was out of any other articles of clothing before wearing them. (Damn fairies) [Thus ended (thankfully and forever) the not so daring adventure of Captain Sugar Britches.]
Tired and perturbed, I decide to grab another hour of sleep, then went to scrounge in the Con Suite for scraps because I had missed yet another meal call. I hung out in the game room until the next panel I wanted to see rolled around at 2 PM.
At the Baen Traveling Slide show, I acquired swag and list of books that I want to read on top of all the ones I am already behind on reading. I wish those Parking fairies could make me read faster. I bailed out after the first hour for another panel of interest.
At 3 PM, I was educated on the International Space Treaty by Space Lawyer Laura Montgomery. This was fruitful in that it gave me a good idea for a short story. Did you know that if you catch a cold in space, that it could technically be illegal to let you come back to Earth because you now contain a mutated organism?
Next, I learned a lot about Planetary Formation, exoplanets, and n-body models (No, they were not Swedish, nor were they wearing bikinis. I told you before 'XXX' is Roman 
numerals for 30!) from the Science GoH, Elisa Quintana. She works for the SETI Institute on the Kepler program. They look for Earth-like planets in other solar systems. She wrote the predictive model that tries to explain how they form, and determine where a good place to look next will be. I'm pretty sure she is much smarter than anyone else at the Con. In fact, she is probably an extra terrestrial being with partial amnesia who is trying to use Earth's resources to re-locate her home planet. I spoke to her afterwards and tried to convince her to turn her n-body model into a video game for nerds. I'd play it.
Am I boring you? Ah, who am I kidding, no one reads this blog anyway, so I'll just keep going for my own sake.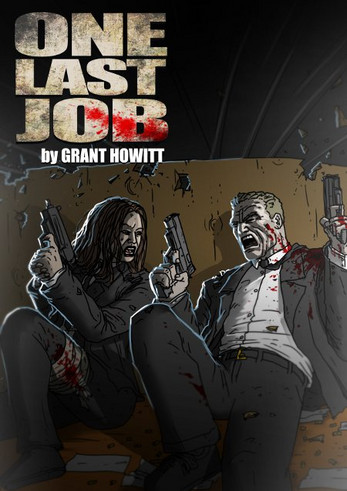 The next event, hosted by my friend Doug Loss, was an RPG game called 'One Last Job'. It's an RPG where the players make up the story, describing what happens and giving out scars and legends to each other that can be used to help with dice rolls in situations that determine failure of success of the mission objectives. My new friend (Critter/MSU grad), his wife and I were the only ones who ended up playing due to the unfortunate time slot. Yep, right at meal time. I was starving by this point, so I had to beg a delay to get grub before the game. Anyway, it was still a great time. We invented some characters, told some lies and made some hilarious memories. Heck, I may even write the scenario up as a short story someday. You can get the pdf for the whole game and a few scenario ideas for free here.
After that, I tried to resolve some sleep deprivation, but… noise. Next year I will have earplugs that link to my phone so I can use them and still hear my alarm. Anyway, I gave up and returned to the game room where I was sucked into a game of Cards Against Humanity. It was deplorably fun, but I ended up with a migraine and had to abandon all hope at midnight. The parties below my room kept me from sleep for a few more hours. (The Choo Choo's strike number three for me, as I had specifically asked to be on the other side. I would not stay there again even if the Con was not going to move.) I did get at least six hours I think, and the migraine went away.
When Sunday rolled around, I was up and checked out before the Kaffeeklatch started at 10AM. I decided to skip out early on that and instead just sat in the rocking chairs outside and enjoyed the morning air, which was not quite as stuffy as the day before. I caught up on email and Facebook, then headed to the Space Opera panel. It was fun, but mainly just turned into a 'what's your favorite/least favorite tv/movie space opera' as answered by the 'pros'.
I picked up my pre-auction art bid winnings (another neat print) at the Art Show and celebrated my friend Anita Moore's win for Best 3D Art.
She does really amazing 3D-scapes that can be used for all kinds of miniature style game sets. If you're in the market, you should definitely check her stuff out on her Facebook page here.
A round of lunch at a nearby shop with friends, old and new, followed by the Con closing Bitch Session, would conclude my LibertyCon XXX adventures. As I left, I thought I'd gotten the last laugh when I walked out the door and was right there at my truck. Then I realized I needed a new drink for the ride home and had to go get some ice… across the parking lot… at the back of the hotel.
Stupid Parking Fairies.